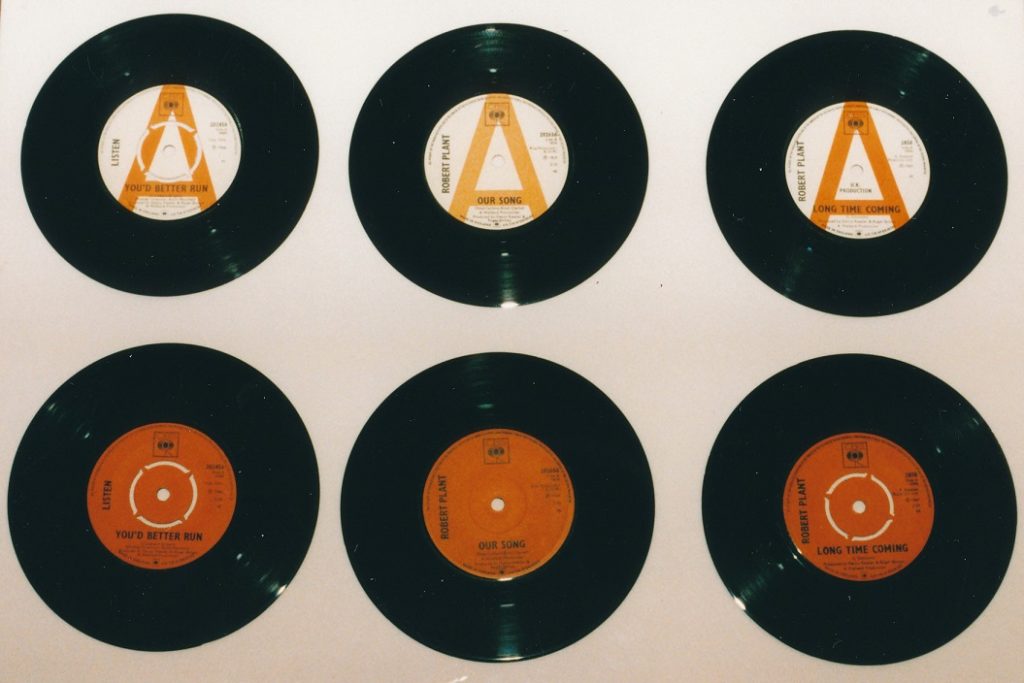 After so many years finding early 45's with Robert Plant on vocals in good condition is quite difficult. But having an example of the three earliest 45's (one by the band 'Listen' and the other two by Robert Plant) is quite an achievement. It's even more special when a collector is able to locate three examples of promotional 45's of those releases, which can be seen below their released counterparts.
The first release by the band 'Listen' was a cover of 'The Young Rascals' song 'You Better Run'. The B-side was an original by the band titled 'Everybody's Gonna Say' The single was released in November of 1966 on CBS records.
The second 45 (in the middle of the photograph) was Robert Plant's first solo artist single on CBS records, and was released in 1967. The song titled 'Our Song' was a reworked track by Danny Kessler of an Italian balled called 'La Musica e Finita'. The B-side track was called 'Laughin, Cryin, Laughin'.
Later that same year (1967) another Robert Plant single was released titled 'Long Time Coming'. The B-side track to the 45 was a song called 'I've Got A Secret'. Unfortunately, these three releases did not perform well on the charts, and are now hard to find collector items. Chris not only was able to obtain all three once, but twice!
Description by: Robert Musco
Photograph(s) by: Chris TDB
From the collection of: Chris TDB